Invitation programs for foreign-based researchers to Japan 2023
Guidelines for application
An application for the program should be made by a qualified Japanese research institute (a host institute) that has a plan to conduct a collaborative R&D with a participation of foreign-based researcher.


A researcher who wishes to participate in this program should contact such a Japanese research institute and develop a joint research plan in coordination with the host institute
. For further details, please refer to the terms and conditions of the program and application procedure, provided at NICT web site, or inquire of secretariat of the program at NICT.
Please note that this program is aimed to support researchers who wish to conduct R&D at research institute other than NICT. If a researcher is interested in becoming a guest researcher at NICT, he or she should contact Deployment Promotion and International Exchange Planning Office at ICT Deployment and Industory Promotion Depertment of NICT.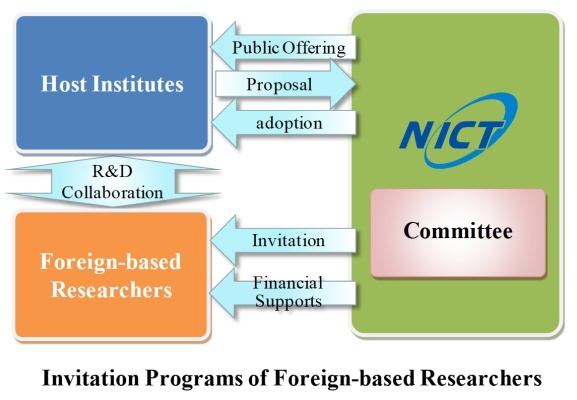 Contact Info
E-mail:






















Outline of the program
NICT provides invitation programs for foreign-based researchers in support of collaborative R&D activities of Japanese research institutes in ICT. The programs will support direct expenses necessary to invite the researchers.
Supports provided by the program
Round trip airfare to Japan, living expenses of 9,300 to 40,000 yen per day and other direct expenses such as domestic business trip expenses will be covered by the programs.



Qualification requirements for research institutes and invited researchers
Applicants should be a Japanese research institutes who wish to invite foreign-based researchers to conduct collaborative R&D in ICT. Research institutes here means is the research and development department of private companies and public interest corporation.
A foreign-based researcher invited by the program must have an excellent research achievement of ICT and an academic degree equivalent to a Japanese doctorate, or research ability equivalent to it.



Duration of R&D activities
Duration of R&D activities supported by the program should be within 12 months commencing between April 1, 2023 and March 31, 2024.


Period for acceptance of applications
Begins on Thursday, August 4, 2022 and ends at 5 p.m. JST on

Thursday

, October 27, 2022


Maximum number of enrollment
About 8 researchers


Terms and conditions