A New Architecture for Miniaturization of Atomic Clocks Exploiting a Piezoelectric-Thin-Film Vibration
- From a rack-mount system toward a microchip -
January 23, 2018
National Institute of Information and Communications Technology
Tohoku University
Tokyo Institute of Technology
Highlights
Background
Achievements
Future Prospects
Supplementary Information
Overview of the Atomic Clock System
Nowadays, there has been considerable interest in the miniaturization of atomic clocks to apply them to portable devices. In this study, a 3.5-GHz-band thin-film bulk acoustic resonator (FBAR) was employed as a frequency reference instead of the bulky quartz-based resonator. By applying the 3.5-GHz-band FBAR to the voltage-controlled oscillator (VCO), a clock frequency of 87Rb (fclock/2=3.42 GHz) can be directly generated, reducing the cost, size, and power consumption of a microwave generator by eliminating the phase-locked loop (PLL). Moreover, we developed MEMS-based Rb gas cells, where the diameter and length of the cylindrical cavity were both 3 mm, and demonstrated coherent population trapping (CPT) resonance. By incorporating the FBAR-VCO into the feedback loop of this CPT system, a sustained clock operation was successfully achieved with a frequency stability of 2.1×10-11at 1 s.
A chip-scale atomic clock (CSAC) was sensationally reported in 2004 and commercialized in 2011. However, it still contains many chips inside. The cost, size, and consumed power have not yet reached the same level as those of the chip components used in consumer devices such as feature phones or wireless sensor nodes. Most of the board area and power in the CSAC are consumed by a microwave generator. In particular, a complicated PLL system including quartz resonators or multipliers is a major source of power consumption.
For the direct generation of the clock frequency with a VCO, a 3.5-GHz-band micromechanical resonator was used as a frequency reference instead of the MHz-band quartz resonator. AlN-based FBARs, which have a high Q-factor and an adequate coupling coefficient among the mechanical resonators, were used in this study.

The VCO chip was implemented by a 65 nm CMOS process, and was integrated to the FBAR chip by wire bonding as shown in Fig. 3(a). A micro alkali gas cell was fabricated by a dry process and anodic bonding. Fig. 3(b) shows an image of the micro cell that is filled with N
2
buffer gas and Rb alkali gas with natural abundance. An FBAR-VCO and a MEMS gas cell were characterized by installing them in an atomic clock test bench that we constructed.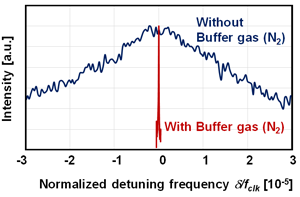 Fig. 4 shows the characteristics of the fabricated FBAR-VCO. It oscillated around 3.4 GHz with a phase noise of 140 dBc/Hz and FoM of -201 dB at the offset frequency of 1 MHz. Fig. 5 shows the CPT resonances of
87
Rb in the MEMS gas cells. By stabilizing the FBAR-VCO frequency to the CPT resonance of
87
Rb atoms contained in a MEMS cell, the frequency stability of the FBAR-VCO reached 2.1×10
-11
at 1 s (Fig. 6). This value is a top-level performance of the short-term frequency stability among the CPT-based atomic clocks using the micromachined gas cell.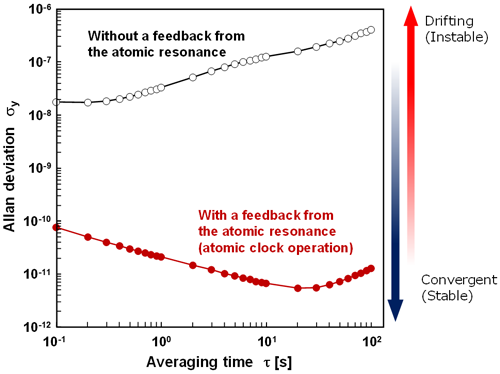 Glossary
Atomic Clock
Frequency Multiplication
Piezoelectric Thin Film
Module-Sized Atomic Clock
Rubidium
MEMS: Micro-Electromechanical System
Technical Contact
Tel: +81-42-327-5476
E-mail:























Tel: +81-22-795-5806
E-mail:

























Tel: +81-45-924-5010
E-mail:



















Media Contact
Tel: +81-42-327-6923
Fax: +81-42-327-7587
E-mail:




















Tel/Fax: +81-22-795-5898
E-mail:























Tel: +81-3-5734-2975
E-mail: