NICT Asia Center
These information are related with NICT Asia Center.
About NICT Asia Center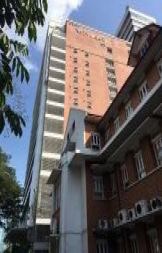 NICT Asia Center is the overseas dispatch office of NICT in Southeast Asia. The center promotes collaborative activities in ICT R&D field with Southeast Asian countries along the NICT's international harmonization policy. The center carries out the following major activities.
-Operates stronghold basis research projects in Southeast Asia where local advantages on research work can be applied.
-Conducts collaborative research project on a fresh and timely subject with organization concerned.
-Organizes seminars and workshops regarding recent high technologies.
-Assists effective apply of advanced research facilities such as high speed internet network.
-Promotes bridging assistance in applying research resources and products of NICT for ICT research needs in Southeast Asia countries.
Accordingly, ARC strives to deepen collaboration with ICT research organizations in the region, and contributes countries growth by leading advanced ICT R&D.
Principal duties
-General coordination, communication and support for the collaborative ICT R&D activities between Asian countries and Japan.
-Information exchange, consultation and advice on pioneering of new research projects with NICT and other related institution in the field of ICT R&D and relevant field.
-Assistance of exchange researchers, acceptance of training personnel -Public relations, news gathering and distribution.
Deployment activities of NICT research in Asia Area
Event or Topic
Event or Topic in 2020
Event or Topic in 2019
Technical information deployed in Southeast Asia
Technical information, including some equipment lending. (Click the title for an overview)
NerveNet[PDF 2.37MB]
It is easy to configure a disaster-resistant mesh network. It is possible to configure the nodes of network is to install only the software on your hardware Raspberry Pi with setting up a VPN on the Internet, it is a technology that can contribute to the digital divide such as smart villages.
Visual IoT[PDF 2.55MB]
NICT has developed the HpVT protocol for high-speed image transfer, which is also used for the transfer of Himawari image data from meteorological satellites. Utilizing HpVT, we have established a Visual IoT system that performs edge computing for image processing of camera images and collects data in a server.
Common Sensor Node[PDF 696KB]
NICT Asia Center has developed a general-purpose sensor node hardware for the IoT, which is aware of Edge Computing using RasPi and its charge controller, with NECTEC(National Electronics and Computer Technology Center), a research institute in Thailand.
MOU
Signed MOU


In order to strengthen NICT's international presence and promote world-class research standards, it is important to cooperate with leading overseas research institutes and build an internationally open research environment. To this end, NICT has signed a memorandum of understanding (MOU) as a basis for joint activities with research institutions and universities in other countries, such as joint research, information exchange, joint events, and invitation of researchers.
NICT Asia Center Contact and Map
NICT Asia Center
100th Year Engineering Building,
Room703 Floor 7th, Chulalongkorn University
254 Phayathai Road, Wang Mai, Pathumwan,
Bangkok 10330, Thailand
E-Mail     int_asia@ml.nict.go.jp